Does your RV camping life need just a bit of a break? Want to go someplace and camp in an extraordinary way? Here's a list of offbeat camping experiences that might be great for a break in your ordinary routine. To us, some of them look like that might really make the old RV look palatial, but you know, "everybody's entitled to their own opinion."
In alphabetical order by state, here's thefamilytravelfiles.com list of unusual camping opportunities:
Arkansas: Diamond mining while teepee or cabin camping. Diamond John's Riverside Teepees and Cool Cabins in Murfreesboro offers a little of everything to along with your teepee or cabin adventure. Your little ones can get to know goats, ducks, chickens, rabbits – even peacocks. The whole family can enjoy free use of water vehicles like a boat, canoe, or kayak. Borrow some mining equipment from the management and go chase after gems at the Crate of Diamonds State Park nearby. www.diamondjohns.com.
California: Revisit the days of the pioneers and sleep in a covered wagon at Rancho Oso. OK, they make it a bit less rough, the wagon comes with electricity for those modern must-haves. Meantime, take a trail ride with a horse, pony rides for the small fry, hay wagon rides for the nostalgic. Wagon sleeping not your speed? They've also got cabins, as well as tent and RV sites. www.rancho-oso.com.
Colorado: Rocky mountain high sleeping in a round tent called a yurt. Snow Mountain Ranch fans sleep in yurts, can take their pick of trail hiking, mountain biking, canoeing, archery, even a "disc" golf course. How about downhill tubing? Free to guests, and opens this July. snowmountainranch.org.
Idaho: Astronomer's delight and snooze in a cabin at Bruneau Dunes State Park and Observatory. Friday and Saturday nights they break out some high-level telescopes to peep at the brilliant night skies. Swim, boat, fish, ride horseback by day. You can also work on your dune sledding skills! parksandrecreation.idaho.gov/parks/bruneau-dunes
Maryland: Shades of J.R.R. Tolkien! Aim for some strange dreams when you sleep in the "Hobbit House" or one of several tree houses at the Maple Tree Campground. Close proximity to Antietam Battlefield and the Brunswick Railroad Museum. thetreehousecamp.com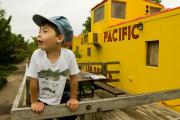 Nebraska: Get into "training" when you sleep in a caboose at Two Rivers SRA near Venice. Ten cabooses (or is that caboosi?) to choose from. They're real authentic, except that the trainmen who used them in times past didn't have the benefit of air conditioning! Fishing, boating, swimming can take up your free time. http://outdoornebraska.ne.gov/parks/guides/parksearch/pdfs/brochure175.pdf.
New Mexico: Not sure if the original residents of New Mexico slept in tipis, but visitors to the Abominable Snow Mansion near Taos can today. If they don't offer a soft bed in your tipi, you can always soak away your back pain in the hot springs next day. Pueblo tours are near at hand to brush up on your history. http://www.snowmansion.com.
Oregon: Snooze in the trees at Tree House Paradise at Cave Junction. Each themed treehouse has its own draws. With names like Calypso, Shitake, and "The Cottage," you'll have to visit the web site to get a better handle on the unique draw. Includes gourmet breakfast, served by high-climbing monkeys. OK, no monkeys, but good breakfast. www.treehouseparadise.com.
Subscribe to the weekly RVtravel.com newsletter or one of our other newsletters about RVing. Great information and advice. Now in our 14th year. Learn more or subscribe.