Castle Mountains, David Lamfrom, wikimedia.org
For some folks, their first knowledge of Devils Tower was the ancient sci-fi film Close Encounters of the Third Kind. That spot in Wyoming became the locust of activities between us earthlings and visitors from outer space. Devils Tower was the first of the nation's 120 national monuments – can you name the most recent three?
California lays claim to having its own "close encounter" with the three, because all of them are located in the Golden State, and all of them received their designation in February when President Obama granted status to Castle Mountains National Monument, Mojave Trails National Monument, and Sand to Snow National Monument. RVers may be very much interested in these three new monuments – and what recreational opportunities they provide – and will yet provide in the future.
There's a lot of ground to cover with three monuments, so in this first installment, we'll cover the northern-most tract of land, Castle Mountains National Monument
whitehouse.gov
A good chunk of this new monument's 21,000 acres lies in northeastern San Bernardino County, between I-15 and I-40, northwest of the Colorado River. It's a dry county, stifling hot in summer but attractive in late fall through mid-spring. Castle Mountains is a land of forests of Joshua Trees and solitary dwelling desert creatures.
Don't mistake Castle Mountains with a national park, where paved roads and visitor centers are standard features. The only roads in the monument are dirt, and they're of the kind that would like to eat your rig when the rains turn the surface into mud, so plan your trip carefully. There is a visitor center, however, that reaches deep into the natural and human history of the monument, near Essex at 90942 Kelso Cima Road. Spot it on your map 18 miles north of Interstate 40 and some 34 miles south of Baker.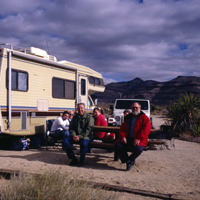 Hole-in-the-Wall, NPS
Camping? Yes, both for the hardy, and the fainter of heart. For boondockers, you can do plenty of roadside camping unless otherwise posted as a no-no. If you prefer a more developed place to park your rig for the night, the National Park Service provides two campgrounds. Hole-in-the-Wall Campground has 35 sites that can accommodate RVs, but be self-contained, there are no utilities, unless you count pit toilets. But there is a dump station and available potable water in the campground. At the 4,400 foot level, you'll find the place most-loved in October and November, and again in March and April.
The other campground is Mid Hills Campground. At a much higher elevation, this little tiny spot offers cooler nights, but monument officials suggest you don't try accessing it with a motorhome or travel trailer. Could be great for truck camper enthusiasts, but we recommend other RVers scout it out with the toad car before trying to take a rig up.
And one more caveat – don't trust your GPS, at least not for showing you reliable roadways. Monument staff say that many GPS databases are NOT up-to-date with the existing road and trail system, and while you'll know where you are in terms of latitude and longitude, the order of the day could be, "You can't get here from there." Carry those old fashioned paper maps to be sure.